Quick Summary
Best Brownie Recipe-you only need ONE bowl to make these fudgy, chewy, gooey, chocolaty brownies with shiny crackly tops! This easy homemade brownie recipe will be your GO TO! You will never buy a boxed brownie mix again!
Brownies are hands down one of my all-time favorite desserts. I love this brownie recipe, but the other day I needed a quick and EASY dessert because some friends stopped by unexpectedly and I wanted to serve them something sweet. I whipped up my One Bowl Brownies and everyone was dying over the deliciousness!
These easy homemade brownies taste similar to box brownies, in a good way, but even better! And I promise they are just as easy. You only need ONE bowl and you don't even need a mixer! I guarantee they will be a family favorite dessert.
Best Brownie Recipe
These brownies are perfect in EVERY way! A few things I love about them:
They are EASY! You can't beat a ONE bowl recipe!
They are chewy and GOOEY!
They are FUDGY!
They have shiny, CRACKLY tops!
They are rich and CHOCOLATY!
Ingredients
I always have the ingredients on hand to make these brownies because you never know when a craving will strike or when friends might stop in for an impromptu dessert night! The ingredients are simple, but when they all come together you will be left with the most amazing pan of brownies.
Butter-Use unsalted butter. The butter needs to be melted and cooled slightly. You can melt the butter in the microwave or in a pan on the stovetop.
Sugar AND Brown Sugar-use granulated sugar AND brown sugar. The brown sugar makes the brownies extra moist!
Eggs-choose large eggs and make sure they are at room temperature. I usually take the eggs out of the fridge 30 minutes before I start. If you forget, place your eggs in a bowl of warm water for a few minutes.
Vanilla Extract–PURE vanilla extract is the way to go! I know it is pricey, but SO worth the extra cost.
Flour-You need all-purpose flour. If you need the brownies to be gluten-free you can use all-purpose gluten-free flour. I like Cup4Cup gluten-free flour.
Cocoa-I like to use Dutch processed cocoa but you can use unsweetened cocoa powder. Splurge and use a high quality cocoa for the best chocolate flavor. I like this Dutch processed cocoa or this one!
Espresso Powder-The espresso powder is optional but I like using it because it intensifies the chocolate flavor. I highly recommend using it for the best brownies. It really makes a difference.
Salt-Use kosher salt or sea salt.
Chocolate-I like to use semi-sweet chocolate chunks, but feel free to use chocolate chips. Guittard brand is my favorite!
Can I add Nuts?
Yes! If you like brownies with nuts you can stir in 1 cup of chopped nuts when you stir in the chocolate chunks. Walnuts, pecans, and almonds are all good options.
Should I Use a Metal Or Glass Pan?
You need a 9×13-inch pan for this recipe. You can a metal or glass pan, but I prefer baking brownies in a metal pan, just make sure the pan isn't too dark. When you use a metal pan, the brownie edges and corners get crispier and I am all about the brownie edges. I know some people like the middle and that is fine, but I want a brownie with a nice edge:) If you use a glass pan, you might have to bake the brownies for 5 more minutes. Check them to be sure!
If you want a thicker brownie, you can use a 7×11-inch pan or 8×12-inch pan, but you will need to bake the brownies for longer.
How to Make Brownies
Here are a few tips that will help you make the BEST brownies every single time!
Line your baking pan with parchment paper. Spray a 9×13″ baking pan with nonstick cooking spray. Line with parchment paper with an overhang on the sides and spray again. This will make it easy to lift the brownies out of the pan after baking.
In a large mixing bowl stir together the melted butter, granulated sugar, brown sugar, eggs, and vanilla extract until smooth and combined.
Sift the flour and cocoa together to make sure you don't have any cocoa clumps.
Don't over mix the batter. If you over mix the brownies will turn out cakey and they won't have a nice crackly top.
Don't over bake. This one is REALLY important. If you over bake, your brownies won't be fudgy and moist. They will keep baking in the pan while they are cooling so take them out when are just set. Use a toothpick to test for doneness. For fudge brownies, you want there to be a some crumbs stuck to the toothpick. Check at 25 minutes to be safe.
Let the brownies cool completely before cutting. Cut with a sharp knife or you can cut with a plastic knife. Yes, a plastic knife works wonders when cutting brownies. The crumbs don't stick to the plastic. It's amazing!
How to Store
Uncut brownies that are stored in the pan and covered will keep on the counter for up to 4 days. If you cut the brownies, they will dry out faster. Wrap cut brownies in plastic wrap and keep on the counter for 1 to 2 days. Don't store brownies in the refrigerator or they will dry out.
You can freeze brownies, they actually freeze really well. I always like having brownies tucked away in our freezer. Wrap brownies tightly in plastic wrap, then wrap again with foil or place in a freezer bag. Note-I don't like to freeze brownie squares because they don't keep as well.
I like to freeze a pan of brownies or at least a half pan at a time. Freeze the brownies for up to 3 months. When ready to serve, thaw at room temperature before cutting into individual servings.
Best Party Dessert
This fudge brownie recipe is the perfect party dessert. The brownies are made in a 9×13 pan so they are perfect for feeding a crowd! You can easily take the pan of brownies to a party, I guarantee you will come home with an empty pan.
They are good served alone but if you want to go over the top, take a brownie square and add a scoop of ice cream and hot fudge sauce or salted caramel sauce. OH YEAH! Dessert doesn't have to be fancy to be the BEST!
More Brownie Recipes: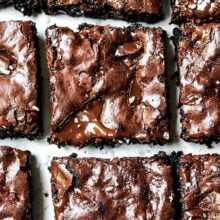 One Bowl Brownies
You only need ONE bowl to make these fudgy, chewy, gooey, chocolaty brownies with shiny crackly tops! This easy homemade brownie recipe will be your GO TO! You will never buy a boxed brownie mix again! 
Instructions 
In a large mixing bowl whisk together melted butter, granulated sugar, and brown sugar. Whisk until sugar is dissolved. Add the eggs and vanilla extract until smooth and combined.

Sift in flour and cocoa. Add the salt and espresso powder, if using, and stir until just combined. Don't over mix. Fold in 1 cup of chopped chocolate. Spread evenly into prepared pan and sprinkle the remaining ¼ cup of chopped chocolate on top of the brownies. 

Bake for 25-30 minutes on the middle rack in the oven until the brownies are just set to touch. Don't over bake the brownies. They will set up as they cool. Remove from oven and let cool before cutting into squares. You can sprinkle them with a little flaky sea salt, if desired.
Notes
Store in an airtight container at room temperature for up to 4 days
Nutrition
Calories:
225
kcal
,
Carbohydrates:
28
g
,
Protein:
3
g
,
Fat:
12
g
,
Saturated Fat:
7
g
,
Cholesterol:
48
mg
,
Sodium:
179
mg
,
Potassium:
136
mg
,
Fiber:
2
g
,
Sugar:
21
g
,
Vitamin A:
280
IU
,
Calcium:
25
mg
,
Iron:
1.5
mg
Have you tried this recipe?
Leave a comment below and share a photo on Instagram. Tag @twopeasandpod and hashtag it with #twopeasandtheirpod
Photos by Dishing Out Health